Mesa County Federal Mineral Lease District First in Colorado to Establish Permanent Fund
Mesa County Federal Mineral Lease District Establishes First Permanent Fund Of Severance Royalties in the State of Colorado
GRAND JUNCTION, CO – The Mesa County Federal Mineral Lease District (MCFMLD) made Colorado history by making the first deposit of $100,000 of mineral lease royalties into the newly created permanent fund for Mesa County.
Earlier this year, State Representative Yeulin Willett drafted and passed bipartisan legislation that allowed the District to take a long-term perspective on how to use the royalties to create a permanent fund and establish a long-term benefit to communities. The opening permanent fund contribution included an initial deposit of $100,000 with Rep. Willett joining the board in making the official account deposit. Said Willett, "I couldn't be more proud to show that Mesa County is the first entity in Colorado to see that natural gas royalties should be invested not just for our short term needs but also for the long term benefit of our state and community. Someday maybe this $100,000 investment will be $20 million or more and we can fund projects every year, in perpetuity."
MCFMLD board member and former Chair of the District Craig Springer noted, "For too long Colorado has simply spent its energy revenues and royalties as fast as we get them. We're proud to demonstrate that there is a smarter way to approach harnessing royalties produced from local natural gas production by creating a permanent benefit for our community that will produce benefits a generation from now."
"The legislature has long refused to take a long-term view on how severance should be spent. So we're proud to work at the local level and set an example for what Colorado should be doing too. Federal natural gas royalties have funded Las Colonias Park, the Avalon Theatre and the Palisade Shooting Complex. Our vision is that this permanent fund can finance projects like this forever -not just when drilling activity is high," said David Ludlam, Chair of the Mesa County FML board and the Districts industry representative.
The initial contribution was approved in a motion made by Mesa County Commissioner John Justman, who has long been a champion of the permanent fund concept. "My motion was made with pride knowing that we are starting something big, with something small, that can provide a long-lasting benefit to our community," said Justman.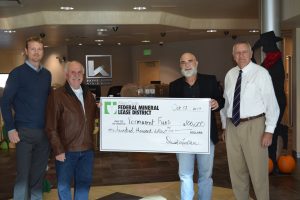 Additional Media Links:
The Grand Junction Daily Sentinel – District Investment
http://www.gjsentinel.com/news/articles/mineral-lease-district-takes-advantage-of-investme